'Wood Wisdom' Oracle Cards for meditation and guidance
Explore the wisdom of the trees through inspiration, vision and journey
*
Can be used as a companion to the book or on its own.
22 full colour cards illustrating the sacred Celtic trees, and an information sheet containing key meanings drawn from mythology, bardic poetry, folklore and archaeological evidence.
Rowan
Gorse
Hazel
Mistletoe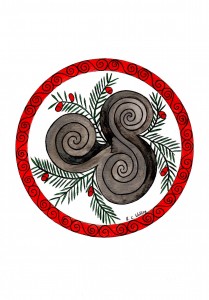 Yew
'Wood Wisdom' is based on the Celtic Ogham tree alphabet: twenty sacred trees/shrubs, each representing the initial letter of its name in Gaelic.  Each letter is in turn represented by the symbol found at the centre of the card.
The earliest examples of the Ogham script are believed to date to the 2nd century AD, though Ogham tree lore may well have existed as an oral system for centuries before symbols were carved in wood or engraved on stone.
The main source of information on the Ogham tree alphabet and its symbolism is the fourteenth century Irish manuscript, the Book of Ballymote.  'Wood Wisdom' is dedicated to the twenty trees of the original system, together with a further two: mistletoe and beech.  Mistletoe because it was held supremely sacred by the ancient Druids, beech due to its symbolic association with the written word and heritage.
From root to branch, may the sap of knowledge flow